Geplaatst op
Door Roman Tanvir #XIAOMITODAY
Geplaatst in K2, Kingzone K2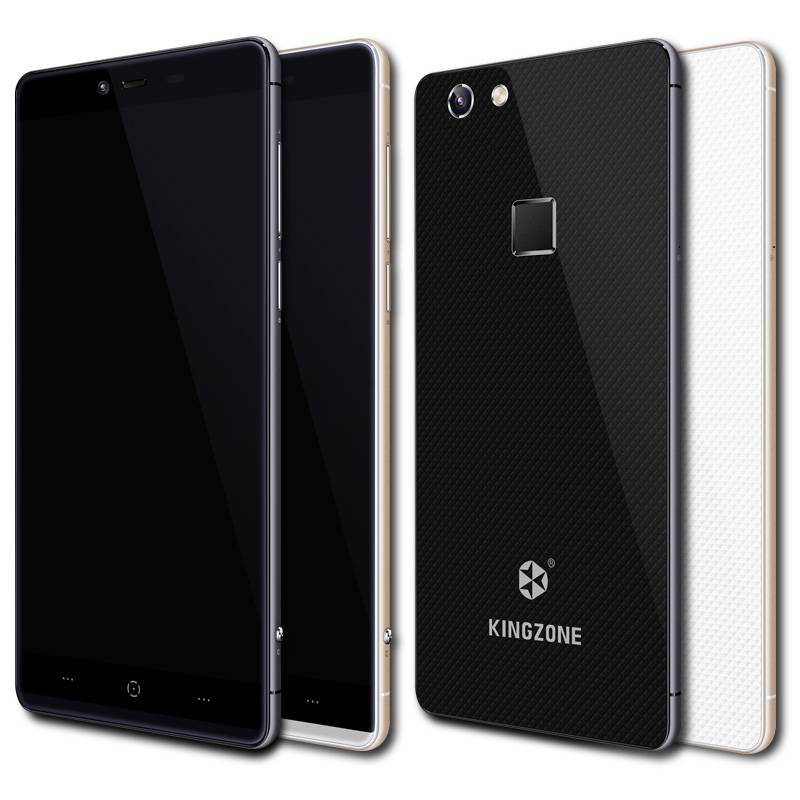 Nowadays, Chinese phone manufacturers are providing smartphones to the world. Those smartphones which are a perfect combination of performance and elegance. Thus, they are giving international companies like Samsung and Sony, a tough time. We have already seen what these Chinese phones are capable of. Don't believe me! Then look at the phones like Meizu Pro 5, Xiaomi Mi 4 and Oneplus Two.

If you think that iPhone is the most stunning phone in the world, then I'm afraid that you're unaware of this newly released beauty known as Kingzone K2. Yes, you heard it right. It's the successor of the previous model 'K1'. We think that this time Kingzone has fulfill the purpose. The purpose which is also in their slogan: Not only simple
To prove this, we are heading towards the in-depth review of Kingzone K2:
For our readers who judge mobile devices based solely on their appearance, we are confident that you will rate Kingzone K2 as high as possible. We mean to say, what's better than a having a phone of thickness 6.6 mm, double 2.5D glass Arc (no frame technology), Gorilla Glass 3, a R angle curve design and at last the body made of metal alloy and plastic.
Kingzone K2 is absolutely gorgeous from the borders. Due to the slim design and the perfect button placement, Kingzone K2 gives a premium touch to the user. The rear side is more appealing as it consist of double-layer tempered glass which gives you a smooth feeling as jade and a crystal clear rear screen. At the rear side of the device, you will clearly be able to view the prominent company's name engraved, along with a very shiny, and somewhat sparkly appearance of the chassis.
The new Kingzone K2 is available in two colors: Black and White. But, we recommend you to choose the black color as the rear glass looks more vivid in that color.
Another interesting aspect is that a fingerprint reader is located at the rear-center. Above that reader, the round rear camera with LED flash is present on the side. Does it looks familiar? That's right! It's similar to the placement and appearance of  iPhone camera. But due to the tempered glass Kingzone K2 is dominant over iPhone.
As far as build quality goes, it looks like the company has spared no expense in incorporating a very robust body. Surely, due to the design and looks of this phone, you will surely fall in love with it.
While we are not too concerned about this segment, there are still some things that we have to point out to you guys, especially if you intend on purchasing this smartphone. Kingzone K2, like other phones has a thin rectangular volume button on the right side and below it is a lock screen button. A unique thing is that a circular shiny camera button is placed to take photos without touching the screen. This button is said to be the magic button by the manufactures. This is due to its functions: long time press for snapshot, double click for video recording and triple click for torch. This button is designed so to further enhance the beauty of Kingzone K2.
Meanwhile, a single slot is introduced this time located on the left side. The slot consist of a single tray. The tray has three segments, two for the nano SIM and one for Micro-SD card.
Moving to the on screen buttons (below the screen), they are unique and different from other phones. Guys, you have seen many phones with a rectangular button in center, the two buttons on each side (menu and back). This design is common in about 70% of the phones. But, believe me that the on screen buttons of Kingzone K2 are impressive. In the center is the home screen button, illustrated as a circle and a dot between it. While the two buttons (menu and back) are represented as dotted line. The Capacitive buttons are extremely responsive and execute the command without delay, which was impressive to see.
Kingzone K2 features an exciting display of 1920 by 1080 pixels (Full HD) on a 5″ screen. The display consist of LTPS(Low Temperature Poly-silicon), which is another awesome technology providing a pixel density up to 401 ppi and 16 Million colors. Another property of LTPS is that like IPS it's anti-eflective and anti-glare. Friends for you, this means that you can operate your Kingzone Z2 easily in the dark (indoor) and in the light (outdoor). The vividness does not affect a little bit while viewing from different angles.
The visibility of the content was exceptional, and the display was extremely vibrant. Image quality would not decay if we tilted the screen, which shows that the company invested a great deal of effort in incorporating a very high quality display, just so we get the best possible viewing experience according to the price we pay.
The common yet another exciting aspect of Kingzone K2 is that it has an advance screen protection known as Corning Gorilla Glass 3, which has an additional feature of waterproof touch screen, as compare to the previous protection (Gorilla Glass 2)
Moving to the real thing, the thing through which a phone gains most of the fame. This time Kingzone has invested a huge sum of money and time to improve its hardware and performance. The heart of the Kingzone K2 is a 64-bit, Mediatek MT6753, Quad-Core processor which runs at a frequency of 1.5 GHz. Kingzone K2 is also powered with 3 GB RAM and provides graphics with a GPU known as Mali-T720. Here is an idea for you that what a Mediatek MT6753 compromises of:
Well, as we have informed you above about the hardware, it's time to enlighten you more. Looking at the processor, it could be a top-tier processor such as Snapdragon 801, 810 or even a Helio X10. But, MT6753 is also fine for that price and best if it comes with 3 GB RAM (enough to handle any process). This processor might give you a performance nearly equivalent to a Snapdragon 801. We did a benchmark test of this processor and the result was as follow:
While the GPU (Mali T720) is better than the processor. The features of this GPU can be explained in the picture below:
Nowadays, many phones whether they are Chinese or International, are using Sony Exmor sensors. Well, same is the case with Kingzone K2. This phone compromises of two cameras, the front and the rear one. First, explaining to you the front one, is a CMOS 8 megapixel camera with AF (Autofocus) . This aspect is great as majority of phones have 5 MP camera at that price.
While the second one, the rear camera is a little bit interesting to explain. Kingzone K2 has a 13 Megapixel camera with Sony Exmor RS IMX214 sensor which features:
Geo-tagging
HDR Mode
Auto-focus
Touch focus
Face and smile detection
Dual-tone Flash
Image stabilization
Among most of our readers, have heard the name of Sony Exmor RS IMX214 before. You would be thinking that this sensor was also introduced in famous phones like Oneplus One. If, yes then you're right. The rear camera of Kingzone K2 provides the same result as Oneplus One does. This means bright, vivid, high contrast and noise reduction images even in low light.
Despite of this, the Kingzone K2 is unable to record a 4K video. Well, that maybe the only cons of it.
Exmor-R Sample Pics
Exmor-R Sample Pics
Exmor-R Sample Pics
Likewise other phones, Kingzone K2 has many common connectivity features. First, moving to the wired connectivity Kingzone K2 has a 3.5mm audio port and a 5 PIN, USB On-the-go port. By saying 'on the go' we do not mean that it's a type C port, but the transfer rate is 2X the normal micro USB port.
So where were we? Ah, yes! Now heading to the wireless connections. The foremost aspect which we are excited to tell is Kingzone K2 supports 4G-LTE network. But wait that's not all. I may precise it a little bit more by saying that it supports a Dual SIM with Dual Standby, 4G-LTE network. This means that you can get a downloading speed of 150 Mbps and uploading of 40 Mbps.
Another unique connectivity feature of Kingzone K2 is that it supports NFC. So what's NFC? Near field communication (NFC) is the set of protocols that enable electronic devices to establish radio communication with each other by touching the devices together, or bringing them into proximity to a distance of typically 10 cm or less. Which means that you can send massive amount of data within seconds without the use of Wifi Direct or Bluetooth. They have termed it as Hot Knot.
Kingzone K2 is filled with an internal storage capacity of 16 GB and you may extend the memory by inserting a Micro-SD card (up to 64 GB). Or you can also connect a USB through an OTG cable.
Oh, we almost forgot to tell you about the operating system of Kingzone K2. Not a big deal! This phone comes with Android based OS, version 5.1 (Lollipop). We might hope that soon it maybe available in 6.0 (Marshmallow).
Another important aspect you might be think is the battery life. Well, Kingzone K2 has a Li-Ion 2600mAh, non removable battery. We think that the battery's capacity would have been more to power a phone having 3 GB RAM and a 64-bit processor. Although the processor is energy efficient but the LTPS display and RAM utilizes more energy. However, you can use the phone for a whole day easily but while using 4G-LTE the time can be less.
After all this aspects, Kingzone K2 has more unique features to offer.
Fingerprint Reader:

You might have noticed a small box type depression on the back of phone. Well, that's the fingerprint reader of this phone. But what's so special about it? The awesome thing of this reader is that it can detect fingerprints in 0.1 secs with a 360 angle. Thus this feature makes this phone enhance the security and make it more secure and safer to use.
YAMAHA HIFI decoder:The phone we are discussing today, has a decoder called YAMAHA HIFI YDA165 which produces a vibrant and a crystal clear sound. With the combination of patch type double silicon microphone your voice can be clearly heard while you are talking.
Gesture Control: This technology is becoming famous after it was first introduced in Samsung Note series. So, gesture control is also present in Kingzone K2. Just select an alphabet for a specific function and draw it when the phone is locked.
Summary:


Final Verdict of Kingzone K2:
Build Quality: 9 out of 10
Appearance: 10 out of 10
Button placement: 8 out of 10
Display quality: 8 out of 10
Price/performance ratio: 9 out of 10
Camera performance: 8 out of 10
Battery performance: 7 out of 10
Note: You can also buy a leather case for it. It's optional and has a analogue clock in it. This further increases the beauty of the phone.
Despite the fact that the there was no 4K video recording and battery life suffered while connected to the 4G network, we could not be happier with the device we received to give our thoughts over. For our readers who consider beauty and features as their first priority, then they must set their eyes on this phone (Kingzone K2). We would be delighted to know your comments about this phone.